Leicestershire Level 7, 6 individual apparatus championships 2013
The competition was held in Leicester at New College. There was a great turn out of gymnasts from across Leicestershire with over 90 competitors from many clubs taking part. Hinckley & Burbage had a strong presence with 24 gymnasts from the club competing for the medals.
It was a long day's competition with level 7 gymnasts starting the day followed the medal presentation. Then after a short break the level 6 gymnasts had their chance to perform.
Today's event was to find the best gymnasts on each piece of apparatus. Gymnasts are split into age groups and ability. Gymnasts begin at Level 7 and any gymnasts that gained the past mark in the previous year compete at level 6.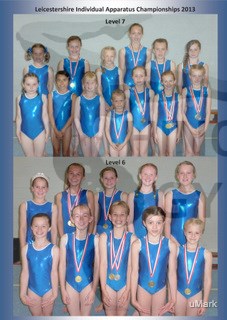 Highlights from Level 7
Age 8 & 9
Lacey Shilcock - 3rd on Beam
Hazel Wilkes - 1st on Bars and Beam, 2nd on Floor and Vault
Megan Mears - 1st on Vault, 2nd on Bars and Beam
Age 10 & 11
Emmie Deer - 2nd on Vault
Georgia Torbitt - 1st on Beam
Laura Archer - 2nd on Bars
Lauren Quinn - 3rd on Vault, Bars and Beam
Age 12+
Lucy Griffiths 2nd on Vault
Highlights from Level 6
Age 8 & 9
Cailin Hancock 3rd on Bars
Age 10 & 11
Keely Ball 1st on Floor
Jannai Keeber 2nd on Vault and 1st on Beam
Orlagh Wright 1st on Bars
Sophie Welch 3rd on Beam
Age 12+
Ellie Beeby 2nd on Bars and 1st on Vault and Floor
Maesie Robinson 2nd on Bars and Beam
"It was the first competition of the year for the girls. We had a great day with many gymnasts performing for the first time. The club came away with many medals across the age groups and levels. We also had several apparatus champions and those gymnasts should be very happy with the results. All who competed on the day should be proud of their performance. The support from the crowd was great helping make the event a great success for the County and our club. A big well done to everyone!"
Sharon & Lee